By John Chen–
Last July through early August (2020), my good buddy Jared and I took a 33-day, 10,300-mile epic road trip across the good old U.S. of A during the height of the pandemic. On that journey we took in all the beauty and majesty of our country as well as witnessed and experienced how people across America viewed, treated, and sometimes ignored the dangers of COVID-19. I documented our amazing and eye-opening trip in the September 2020 issue of the San Francisco Bay Times.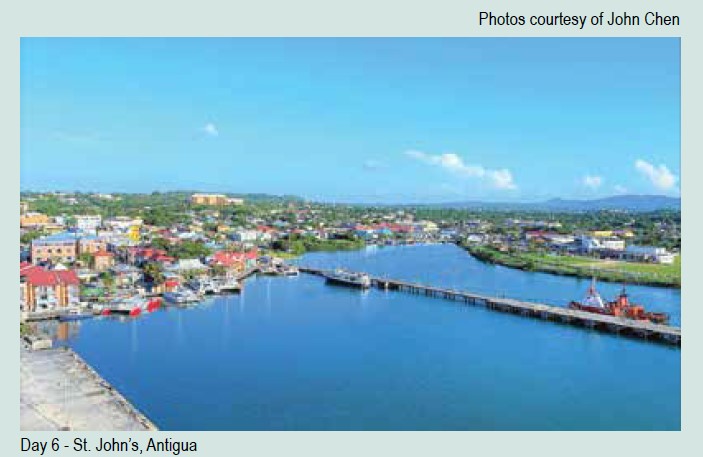 Since then, we've taken numerous short trips exploring California, Nevada, and Arizona—until recently. Just this past late September through mid-October 2021, Jared and I embarked on a 19-day trip to the Caribbean and South Florida soaking up as much sun and native island cultures as we possibly could. All in all, we visited Fort Lauderdale, South Beach, Key West, and six island nations on a cruise ship, the Celebrity Equinox. The ship docked at St. Croix, Antigua, Dominica, St. Lucia, St. Maarten, and St. Kitts. Similar to our road trip across America, I would like to share with you the highs and lows, what we've learned, our interesting encounters, and all the wonders and beauty we experienced.
Before you travel, here are some of my tips:
Do your destination research well ahead of your travels so that you know what to pack and expect, especially laws, rules, and regulations.
Book excursions, tours, and rentals in advance.
Book through reputable sites that offer free cancellation or refunds. I used Viator for all watercraft rentals and tours, and Airbnb and Hotels.com for places to stay.
Have a plan B.
Have enough cash to tip. Although tipping isn't a must, the vast majority of hospitality workers depend on your generosity.
Health and Safety Guidelines
Originally, our ship's itinerary included the islands Barbados and Grenada. Unfortunately, due to a resurgence of COVID-19 cases in those nations, the cruise had to cancel those two stops but added St. Kitts. Celebrity cruise line sent us health and safety guideline updates almost every week, months before our sail date, to ensure we understood and would adhere to the strictest standards.
All staff on board are fully vaccinated and will wear a mask at all times. All passengers over the age of 18 must show proof of being fully vaccinated and must receive a negative test result from an approved testing agency 48 hours before boarding. All unvaccinated passengers under the age of 18 must test negative the day of boarding, and every three days while on board, and the day before returning to the U.S. We prepared early and ordered the approved COVID-19 home test kit from Abbot a few weeks before our trip.
In addition, we were notified ahead of time that masks must be worn on all islands in both indoor and outdoor settings, except when eating, drinking, and/or swimming. Finally, cruise ship guests are not allowed to tour most of the islands unless they are on a cruise sponsored excursion. For this reason, we signed up in advance for an excursion at every port.
COVID Test 48 hours Before Boarding Our Ship
First, we downloaded the required NAVICA app in order to track our results. Then, the test was administered live via video conference where a certified agent talked us through the test and observed that we did it correctly. Finally, the agent certified our negative results in a national database where we could retrieve the data from the NAVICA app. I must say it was a little nerve wracking taking the test. It was a good thing that Celebrity would have credited the full amount of our trip for another cruise should we have tested positive and been unable to go.
Day 1: Air Travel and Fort Lauderdale
We flew Southwest Airlines first to St. Louis, then to Fort Lauderdale. Masks had to be worn as soon as we entered an indoor airport building until we got into our rental car. This is federal law. We anticipated the flight to be fairly full, but to our pleasant surprise, neither flight reached more than 60% capacity.
Once in Fort Lauderdale, we headed straight to Shooters, an iconic waterfront restaurant where all the tourists go for shots. Hey, we are tourists, so don't judge.
Day 2: Fort Lauderdale and Aboard the Celebrity Equinox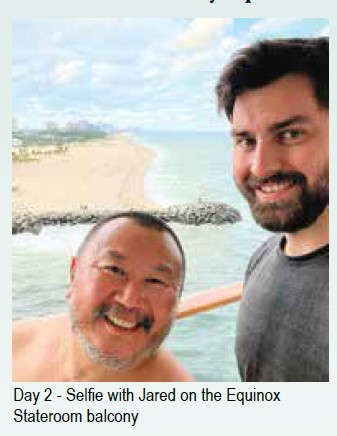 Our boarding time was slated for 3:30 pm, so we had plenty of time to shop for flip fops, go for a workout at the local 24 Hour Fitness, and eat a late lunch. Oh yeah, let's not forget it was both hot and humid in Florida! And it would be just as hot and humid in the Caribbean. We made sure we had plenty of reef-safe sunblock.
After returning our rental car we took a taxi to Port Everglades Cruise Port. From there, getting onto the ship was a breeze, although we had to go through several security and health safety check points that included verifying our passports, fully vaccinated cards, and a negative test status within the last 48 hours via the NAVICA app.
Once on board, we didn't have to wear our masks and were greeted by a herd of smiling and enthusiastic masked staff who welcomed us with open arms (figuratively speaking, of course). Immediately, we noticed that there were hand sanitizing stations everywhere. Moreover, we found out that the ship was only half full, and that many guests didn't get their COVID-19 tests and were sent to a designated local pharmacy to receive an expensive quick turnaround test before being allowed to board.
After waving Fort Lauderdale and the good old U.S. of A goodbye from our stateroom's balcony, we proceeded to tour the ship and acquaint ourselves with all the restaurants, shops, bars, lounges, and amenities aboard.
Dinner time was the most important time of the day for us. You see, we are both foodies and take our eating seriously. We staked out all of the dining halls, specialty restaurants (where you pay to dine), and snack bars, and strategically reserved our spots accordingly. Tonight, our first night on the ship, we visited the main dining hall where the two of us ordered eight appetizers, five entrees, and four desserts to the bewilderment of our servers. Yes, we did! Who are you to judge us?!
For those who don't know this, non-LGBT sponsored cruises generally have a "Friends of Dorothy" social hour every day, code name for an LGBT people on board meet and greet. Although we didn't partake in these socials because they took place smack in the middle of dinner time, we did befriend several LGBT travelers. I venture to guess that there were at least 40 LGBT passengers on our ship. Credit goes to Celebrity, whose ads show an LGBT couple having a romantic evening toasting one another.
Days 3–4: At Sea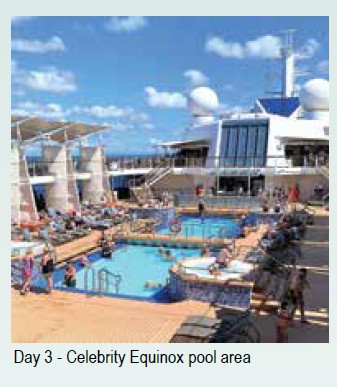 Days 3 and 4 were sea days and we spent most of our time sampling food from all the different restaurants, tanning at the pool, working out at the onboard gym, playing ping pong, drinking at the various bars, and enjoying live music all over the ship. Let's go back to the restaurants for a moment. On our second night, we dined at an amazing French restaurant, the Murano, where we received top-notch food and service. At the end of our six appetizer, five entree, and six dessert meal, we offered a monetary tip to our server. She declined and asked us—a request that was borderline a plea—to come back and eat there ($50 per person) again. She assured us that, by coming back, we are doing her and her fellow staffers a bigger good than giving her a tip.
Day 5: U.S. Virgin Islands, St. Croix
After two and a half days at sea, we arrived at our first destination, St. Croix. Right away we could see palm trees and crystal clear aqua blue waters line the shores and beaches. At St. Croix, we signed up for a power boat tour that included beach and snorkeling time at Buck Island, an area of St. Croix famous for its beautiful coral reef and giant sea turtle nesting grounds. As soon as we got off the ship, we were required to wear our masks, sanitize our hands, and pass a temperature measurement. This was our de-boarding routine at every island.
A bus ride took us to a national historic site, Christiansted, where our powerboat awaited. Christiansted is home to a former fort and several original structures, including a Custom House, commemorating the Danish colony that occupied the Virgin Islands from the 16th to the 19th centuries.
From Christiansted, our boat cruised along the northern shoreline of St. Croix to the beautiful Buck Island Reef National Monument, a federally protected elkhorn coral barrier reef that supports many endangered species of wildlife. Before going snorkeling, we were told that sun block/screen of any kind, including reef safe, is not allowed to protect the fragile corals. The slight sun burn we got was well worth seeing the unique and endangered underwater ecosystem.
Day 6: Antigua
Our ship arrived and towered over the capital of Antigua, St. John's. From the ship, the city looked every bit as bright, cheery, and colorful as a crayon box. Our excursion today was a long one. After a temperature check and hand sanitizing at the pier, we were herded onto our bus for our tour. Our guide, a native and a grandmother, beamed with pride when speaking about her country, culture, and people, although she lamented that her country abandoned traditional trade such as sugar and fruit for the much more profitable tourism industry, only to have the pandemic ruin everything.
In fact, we were only the second major cruise ship to come through since the start of the pandemic. The first one was also the Celebrity Equinox, but with only 800 passengers. No wonder there was nary a tourist at St. Croix and now Antigua. She thanked us for visiting her island and joked about seeing us again in a few weeks in hopes we would visit again. "But seriously," she said, "please tell your friends and family to visit!"
As our tour bus traveled through St. John's, I noticed there were a few shops that sported the LGBT rainbow flags prominently. This was somewhat surprising considering Antigua is a heavily religious country with as many churches as we have 7-Elevens.
Our first major stop was the UNESCO World Heritage Site, the Nelson Dockyard and Museum. Named after the greatest British Naval Officer, Admiral Horatio Nelson, the dockyard was where the admiral set up his naval base in the Caribbean in the late 1700s.
From the dockyard, our bus took us to Shirley Heights, where we were rewarded with a breathtaking panoramic view of the English Harbor from above.
After a long day of touring, we arrived at a private, secluded white sandy beach and frolicked in the gorgeous Caribbean Sea for a couple of hours before heading back to our ship. I am very thankful that there were only a couple small tour buses of people at the beach instead of the usual (pre-pandemic) several hundred.
Day 7: Dominica
On this rainy and cool day, our ship docked on the pier at Roseau, the capital of Dominica. Today, our excursion took us to the magnificent Titou Gorge and the blissful Screw's Sulfur Spa.
Titou Gorge, or "little throat," is located on the outskirts of Morne Trois Pitons National Park, the first natural UNESCO World Heritage Site in the Eastern Caribbean. This deep river gorge is a popular swim hole that navigates through a series of rooms and ponds carved out of molten lava and ends at a towering waterfall. This was also where a segment of Pirates of the Caribbean: Dead Man's Chest was filmed. In fact, our tour guide, who jumped in the water first to lead the way, showed us small holes in the cave walls where the cameras were mounted to capture Orlando Bloom jumping into the gorge. The swim was relatively easy and took less than 10 minutes to reach the waterfall. Words cannot describe the natural beauty inside the gorge where light is filtered through the tropical foliage above ground and lava-carved gorge walls surrounding the cool, if not chilly, waterway. This was definitely a favorite stop for Jared and me.
After a cold swim, we headed to Screw's Sulfur Spa for a hot soak and detox in its many natural pools. This was the perfect complement to the Titou Gorge. The hot springs also offered us a sulfur scrub that the natives swore took 10 years off their faces with each application. Hearing this, all of us enthusiastically scrubbed our faces and bodies. Unfortunately for me, the clock turned midnight only minutes after I completed the "treatment." Meanwhile, Jared still looked 28 instead of 18. But we felt like a million bucks!
Day 8: St. Lucia
Our ship arrived in Castries, the capital of St. Lucia, with the sun shining unlike Dominica. Today was all about cruising the western coastline of the island to the Gyro Pitons, twin volcanic spikes above ground and another UNESCO World Heritage Site.
The St. Lucia coastline is beautiful and dotted with a mixture of small, secluded beaches, quaint fishing villages, 5-star resorts, rocky caverns, and aqua blue inlets. Our boat made a pitstop at Hollywood movie-like Marigot Bay, where we swam in the crystal-clear water.
About an hour later, we arrived at the most photographed landscape in St. Lucia, the Gyro Pitons. The view from our boat was stunning as everyone lined the port side of the boat to take photos and selfies. Naturally, I was one of those jockeying for the best position to get a few photos. And I may have "inadvertently moved" someone out of my way.
Day 9: At Sea
We started out the day with a good workout at the gym, then ate, played ping pong, ate, sat by the pool, ate, sat in the jacuzzi, watched live music, ate, and played ping pong again. Whew! What a rough life!
Day 10: St. Maarten (Dutch)/St. Martin (French)
The story of St. Maarten and St. Martin is actually quite humorous if you look at it from the simplest perspective. Our tour guide told the tale of the two countries. "The Dutch ruled the island until the French came. They fought and the Dutch said it wasn't worth their effort, so they set sail to find another island to inhabit. The Dutch soon found another beautiful island and proceeded to claim that as theirs. However, as the Dutch further explored the island, they discovered the French on the other side and realized it was the same island. They fought again. Finally, the two sides came to an agreement to split the island 50/50. Unfortunately, for the Dutch, the man designated to sign the agreement got drunk at the time of signing and unwittingly gave the French an extra 17% more of the island. Since then, the Dutch side is called St. Maarten and the French side, St. Martin."
Our ship docked on the Dutch side, and like all tropical islands, St. Maarten was sunny, but we could see in the distance that St. Martin was pouring cats and dogs. Today was beach day for us. Our excursion took us to a pristine beach with virtually no other tourists. Immediately, we were met with very aggressive merchants who relentlessly pedaled their products as well as massage services. On the one hand, we understand their plight. On the other hand, their tactics left little to be desired.
Day 11: St. Kitts
St. Kitts was added to our itinerary when Barbados and Grenada were cancelled a couple of weeks before sailing. Like all the other islands, we were the only cruise ship in Basseterre, and you guessed it, the capital of St. Kitts. Our excursion took us to a secluded resort, the Carambola Beach Club. Again, the scenery was amazing with crystal clear aqua blue water.
The Carambola Beach Club, however, offered various water sports including jet skis, mini power boats, and various paddle crafts for rent that were unavailable at the other beach excursions. With no other suitors, we were able to rent a couple of jet skis for a mere $60/half hour/person. The jet skis vendor admitted that during a non-pandemic year they would be completely booked months in advance and there would be nothing available for walk ups.
Although our bus ride to and from the ship was relatively short, the driver did stop at the Timothy Hill Overlook where we could see a narrow strip of land, a little more than 1,000 feet wide in certain places, separating the Atlantic Ocean on one side from the Caribbean Sea on the other. From the overlook we could clearly see that the Atlantic Ocean was fierce with waves and winds crashing ashore, whereas the Caribbean Sea was calm and gentle, like a peaceful lake in the heart of a tranquil mountain.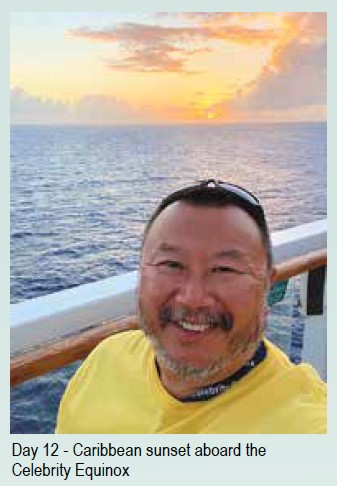 Days 12–13: At Sea
Our Caribbean journey was coming to an end. The final two days at sea before arriving at Fort Lauderdale gave us a chance to eat some more, but more importantly, to reflect on all the islands we had visited and their collective economic plight due to the pandemic. We learned that all of these islands, at some point in the distant past, had industries and agriculture where they exported sugar, various fruit, and liquor—in particular, rum. However, the economic lure of tourism was too great to resist. No one thought the prosperity from tourism would come to a halt so suddenly until the pandemic threw all the island nations into economic despair. Although it was nice to have many of the beaches, tourist attractions, and rentals to ourselves, we kept hearing the pleas from not just the natives who welcomed us onto their islands but also staff members on our ship to please, please come back soon and tell all of our friends to come visit. They need us tourists, more than ever.
Day 14: Fort Lauderdale
Our ship arrived bright and early in the morning to Port Everglades in Fort Lauderdale. After saying goodbye to all the new friends we met onboard, we took a taxi to the airport to pick up our rental car and headed to the intracoastal waterway to retrieve our reserved Boston Whaler boat rental. Although I lived in Fort Lauderdale for a couple of years back in 2004–2005, this was Jared's first time visiting. What better way to see the area than to rent a boat and cruise along the waterways lined with multi-million-dollar homes and multi-million-dollar yachts. FYI, in order to operate any power watercraft, big or small, in most states, you must obtain a U.S. Certified Boater Card from your home state. Jared and I took the four-hour online course and the subsequent exam months before our trip. It really does pay to do your homework and plan in advance.
On another note, the state of Florida does not have a mask mandate for those who are vaccinated or unvaccinated, so we saw people everywhere, both indoors and outdoors, without a mask on.
After coasting up and down the waterways in Fort Lauderdale and picking out the multi-million-dollar homes we each wanted after winning the lottery, we ate a really good Thai lunch in the heart of the LGBT community at Wilton Manors. I remembered from my years living here, South Florida had, in my opinion, average Asian food, except for Thai, which was actually comparable to that of the Bay Area.
Speaking of Wilton Manors, it is a small island city surrounded by the much larger city of Fort Lauderdale. Wilton Manors is also known as the gayest city in the U.S. with a 90% LGBT population. This is where the majority of the LGBT businesses and entertainment are located in the greater Fort Lauderdale area. And this is where the community go to eat, drink, party, and be merry.
In the late afternoon, we checked into our beautiful waterfront Airbnb, a lucky and rare find at our price point. For the rest of the evening, due to typical South Florida pouring rain, we decided to stay in and spend a quiet and relaxing night in our private pool and jacuzzi.
An important tip when traveling by car in Florida is to plan for the many toll roads and bridges. Make sure you have "Plate Pass" or "Sun Pass."
Day 15: South Beach
The iconic South Miami Beach, affectionately known as just South Beach, is a must see for those visiting the Fort Lauderdale-Miami area. From the art deco district to the entertainment destination, Lincoln Road, and from the mob history to the speakeasies, South Beach is steeped in dark history and is the quintessential tourist attraction.
We took a walking foodie and cultural/history tour and sampled various authentic Latin cuisine, visited former speakeasies, took photos of the art deco buildings that lined the beach front, and stood in front of the former Versace Mansion where the fashion giant Gianni Versace was gunned down. We learned that, back in the day, the mob congregated and ran their drug businesses in Miami Beach because it was too far south for the federal government to intervene and control. And the area was the main gateway connecting the U.S. directly to Latin America. We also learned that there's always an arrow floor pattern in front of any speakeasy in order to secretly "point" the way.
Day 16: Beach Day, Fort Lauderdale
With so many beaches to choose from such as Fort Lauderdale Beach, Sebastian Beach (an LGBT frequented beach), Hollywood Beach, and Haulover Beach (the only legal clothing optional beach in Florida with its own gay section), where should we go? We ended up at Fort Lauderdale Beach because it was the closest and I was too lazy to drive more miles than I had to. And there were restaurants and bars nearby for easy access. Go figure!
Day 17: Florida Keys and Key West
We got up early, checked out of our Airbnb and headed down the Florida Turnpike to U.S. Federal Hwy 1 and the Florida Keys. The keys are a scenic string of islands, approximately 120 miles long, ending at the southernmost point in Key West. Although most tourists head straight to Key West, a major destination, we decided to make a few stops along the way to see some beautiful and secluded beaches such as Anne's Beach in Islamorada, Sombrero Beach in Marathon Key, and Horseshoe Beach in Big Pine Key, where we snorkeled to see native marine life.
After a long day of driving and beaching (is that even a word?) we arrived in Key West just in time to make our dinner reservation at Nine One Five. We have to eat. We need to eat. Oh heck, we love to eat! We ended our day strolling up and down the famed Duval Street where boutique shops, restaurants, clubs, live music, and street vendors come alive after the sun goes down.
Key West is also a popular destination for LGBT travelers with many LGBT and LGBT-friendly businesses including scores of hotels, resorts, bars, drag shows, and novelty shops in the heart of the Duval Street entertainment district.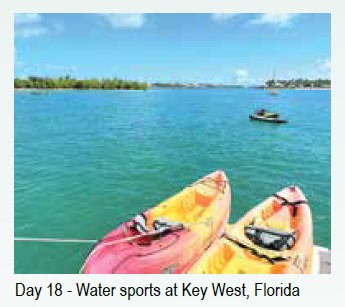 Day 18: Key West
After a good night's sleep, we headed out to the beautiful open water and reserved (weeks before our trip) a fun day of snorkeling, jet skiing, kayaking, parasailing, banana boating, and swimming. Florida is a great place for all types of exhilarating water sports, and we took advantage of the smaller than normal crowds.
In Key West, I had an opportunity to chat with several local merchants about the effects of the pandemic on the local economy. Unlike the Caribbean island nations where the ports and airports were completely closed, cutting off their main source of income, Key West businesses managed to survive. The island city being so far away from state and federal jurisdiction was able to welcome enough tourists looking for a tropical getaway to stay afloat.
We ended our day on land visiting the Southern Most Point, Mallory Square, and the Hemingway Historic House where we petted the Hemingway polydactyl cats. The extra-toed cats have been featured in various documentaries, making them the star of the tour.
Finally, we sat down to an amazing lobster dinner while watching the famous Key West sunset. The scenery and meal made for a perfectly romantic end to our vacation, but with one major flaw. Jared and I are buddies. He wished he was there with his girlfriend and I, my husband. I guess what we have is the next best thing, a bromance.
Day 19: Flight Home to San Jose International Airport
Even after a long, exhausting day in Key West, we drove 192 miles back to Fort Lauderdale to rest and catch our flight home the next day. Another one of our epic journeys had come to an end. It was an amazing trip filled with fond memories. Nevertheless, we were eager to greet our other halves at the airport and were looking forward to spending some quality time at home.
Final Thoughts
At this time last year, we couldn't fathom the pandemic lasting this long, and yet here we are. I count my blessings that Jared and I could still travel, adhering to all health safety measures, and see the world outside of the states. We learned that people are finding ways to survive and get through the pandemic. We are strong and resilient, but we still need each other's support. On our cruise ship, each individual staff thanked us for being there. They were genuinely happy to see us and worked hard to make our trip the best it could be. The people of the Caribbean were just as ecstatic that there were finally tourists. We could see that they missed us, and, of course, our spending.
If you are dreaming about a tropical winter getaway, I recommend you make that dream a reality and take a serious and closer look at the various Caribbean islands. With enhanced health safety protocols in place, and being conscientious of your surroundings, you too can enjoy the exciting and/or carefree lifestyle the Caribbean has to offer. There is no better time to go than now, especially with far fewer travelers and abundant discounts. I definitely recommend taking a cruise as the best and most stress-free means to visit as many islands as possible. We had the most excellent experience with Celebrity. Finally, while you are there, please do support the local businesses, tip those who go the extra mile to serve you, ask the people how they are doing, and don't forget to tell a friend.
John Chen, a UCLA alumnus and an avid sports fan, has competed as well as coached tennis, volleyball, softball, and football teams.
Published on November 18, 2021
Source : http://sfbaytimes.com/my-near-perfect-19-day-cruise-to-south-florida-and-the-caribbean-with-a-bff-during-the-pandemic/
4952