Last Updated on January 16, 2022
Guest blogger and author Rick Kilby shared his favorite "Old Florida" roadside attractions, which still delight visitors with kitschy fun including mermaids, flamingos, alligators, and even goofy golf.  
I grew up in Florida. My wonderful yet "thrifty" parents were resolved to steer us away from what they deemed "tourist traps," those colorful roadside attractions designed to lure motorists off the road with toothy alligators, sultry mermaids, or colorful macaws. Now, as an adult, I think I may have missed something. So, I've made it a personal mission to visit these fantastic mom & pop roadside businesses that opened their doors well before Mickey came to the Sunshine State.
With the advent of the interstate highway system, travel patterns were rerouted, taking away many potential customers and many of these places were doomed. But there are a few amazing survivors from the golden age of Florida's roadside attractions still thriving today.
Perhaps the oldest attraction on the list is in the nation's oldest city – St. Augustine. The Fountain of Youth originated near the turn of the 20th century when "Diamond Lil" McConnell began charging visitors to drink from a spring found on her property. According to McConnell, a larger-than-life participant in the Yukon Gold Rush who had relocated to Florida, the spring was discovered near a stone cross laid out with 15 rocks in one direction and thirteen in the other, indicating the year of Ponce de Leon's arrival in Florida, 1513.
Today, in addition to drinking the famed water, you can stroll through 15 pristine acres located right on the water, with colorful peacocks, monuments, re-enactors, and even a cannon-firing that will thrill the kids. I admit my first visit was motivated by my love of Florida kitsch, but I found authentic historical interpretation, and perhaps the most important archeological site in the entire state: the location of the ancient Timucuan Indian Village of Seloy, and also the original settlement of Pedro Menendez.
Just west of Ft. Lauderdale, Flamingo Gardens, established in 1927, is one of the oldest botanical gardens and attractions in South Florida. Originating as orange groves and an exotic plant showcase, the grounds today are home to over 3,000 tropical and subtropical species of plants and trees as well as 83 native species of birds and animals. All the animals at the Gardens are permanently injured or considered non-releasable and any baby "critters" born in the park are released into the wild.
As a bird lover, I was drawn to the 25,000 square foot aviary, where I had up-close encounters with two of my favorites, brilliant Roseate Spoonbills and the iridescent Glossy Ibis. They also have a fantastic collection of raptors including owls, hawks, and eagles. The namesake flamingos, which were nesting at the time of my visit, are located near entertaining otters and a sleepy Florida Black Bear. Combining spectacular natural elements and interesting old Florida history, Flamingo Gardens is a fun place for both kids and adults.
In the mid-twentieth century, roadside attractions featuring alligators dotted the Florida landscape from Jacksonville to the Keys. Today a handful of reptile-themed attractions survive, including Gatorland, located on US 441 in South Orlando, near Kissimmee. Claiming to be Central Florida's oldest major attraction, Gatorland was built by Owen Godwin, Sr. in 1949 and featured Seminole Indian alligator wrestlers. Today the gator wrestling show survives as well as the Gator Jumperoo where enormous alligators leap up out of the water at food dangling from wires overhead.  Iconic gator jaws mark the entry to a park that combines the best of Old Florida with elements of a 21st-century attraction.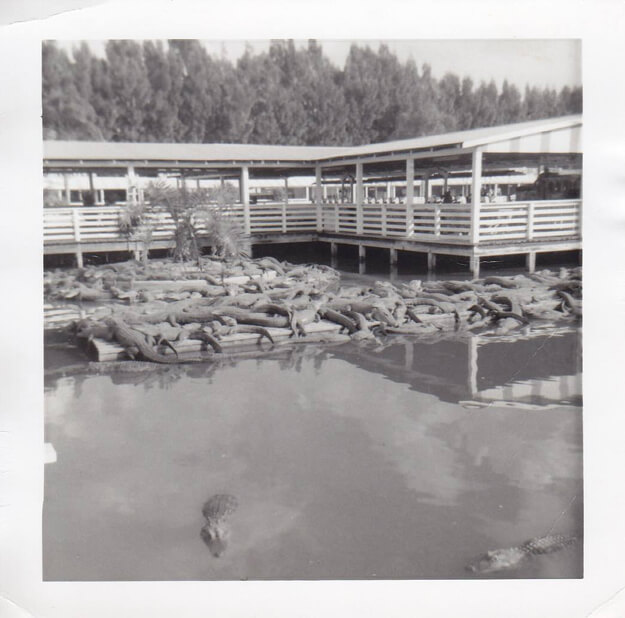 A Swamp Walk allows visitors to walk on boardwalks in a pristine environment amidst huge native cypress trees.  A children's splash zone called "Gator-Gully" features oversized egret statues and water cannons mounted on giant fake alligators. My favorite is the Alligator Breeding Marsh where an observation tower provides spectacular views of huge alligators and a native rookery that has every wading bird imaginable during mating season. There are dozens of other animals on display from snakes to flamingoes and don't miss the vintage Molderama machine for a classic plastic souvenir.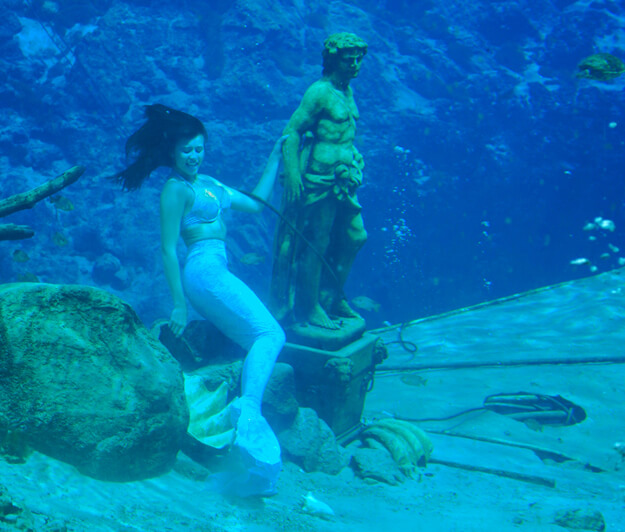 Florida is graced with nearly 1,000 freshwater springs gushing ice-cold water from deep beneath the earth's surface. Many of the larger springs were developed into roadside attractions including Rainbow, Homosassa, and Silver Springs. But in terms of roadside attraction worthiness, nothing can match the pure kitsch of Weeki Wachee, home of the world-famous live mermaid show. Developed by Newt Perry in 1947, this former swimming hole turned underwater performance venue stands alone in Florida pop culture. Perry invented underwater breathing techniques during stints at Silver and Wakulla Springs before purchasing the Hernando County property.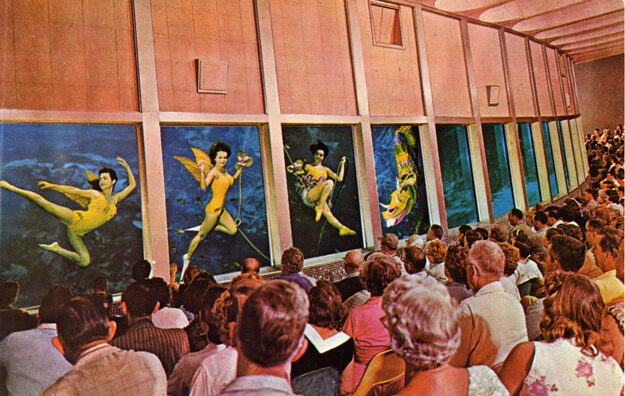 Today the glamorous mermaids are state employees and they perform twice daily. Other features of the park include a wildlife show, a boat tour, and a water park known as Buccaneer Bay.
Tourists have been drawn to the white sugar sand beaches of the Florida panhandle since the late 19th century. Panama City once featured a veritable plethora of roadside attractions from the Miracle Strip Amusement Park to a Western-themed attraction called Petticoat Junction. The best survivor of this era is Goofy Golf, which originally opened in 1959. Many of the zany mid-century obstacles still embellish the two 18-hole putt-putt courses. It's hard to miss the enormous purple brontosaurus when driving down Highway 98, a fact that has probably ensured the attraction's survival into the 21st century.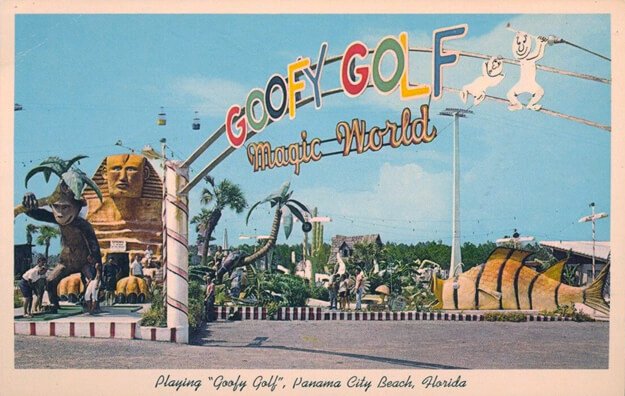 Other kitschy oversized statuary includes a large Buddha, an Easter Island God, a T-Rex, a sphinx, a rocket, and a gigantic monkey with red eyes. If you like Mad Men era attractions, you won't want to miss this spectacular beachfront treasure.
About Rick Kilby
For more than 25 years, Orlando graphic designer Rick Kilby has studied Florida's popular history and helped clients present historical topics in interesting, visual ways. In 2008, Kilby launched a blog about Florida history and culture, "Old Florida: Ephemera: Musings from the State I'm In," on which he's posted over 450 posts and received more than 450,000 page views. The Facebook page originally created to promote the blog, "Old Florida" has over 58,000 fans.