Chelsea boss Emma Hayes said she didn't know if it was "a point gained or two dropped" after her side were held by Brighton in the Women's Super League.
The Blues, who started the day four points behind leaders Arsenal, dominated possession but could not find a breakthrough from their 26 attempts.
Brighton withstood the pressure and defended resolutely, with goalkeeper Megan Walsh making a number of saves.
Erin Cuthbert also hit the crossbar to sum up Chelsea's frustration.
Chelsea, who were playing for the first time in the league since 11 December after three games were called off because of Covid, missed the chance to narrow the gap on the Gunners.
"These are weird times - these are Covid times," Hayes told BBC Sport. "It's a wide-open race, I've felt that all along. I know all the other teams feel the same way."
Following a run in which they scored in 59 consecutive WSL matches, this is the first time Chelsea have failed to score in consecutive league games since October 2018.
"Well played to Brighton but we've come here before and not played as well as that," said the Blues manager.
"We played well today. If a chance goes in from the first-half dominance I think it's a different outcome but a team like Brighton grows in confidence within the game.
"We had one-on-ones and we hit the bar. These are great situations but we didn't execute and that's why it's a point rather than three."
'We showed we can compete'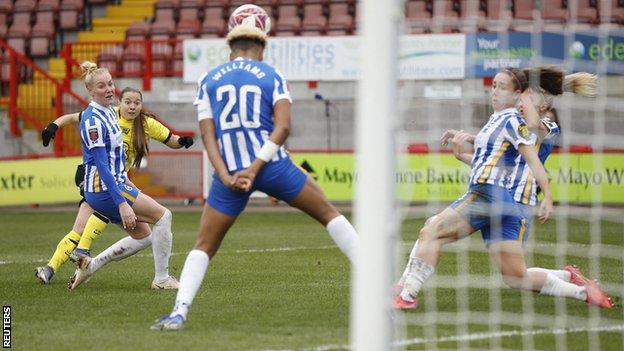 Despite making it seven successive games without scoring themselves, the result means Brighton put an end to their run of six consecutive defeats in all competitions.
Brighton manager Hope Powell said: "It comes down to hard work and honesty. The girls weren't satisfied with their performances the last few weeks, we talked about pride in the badge and consistency and today we showed that, it was more about pride in our performance.
"We knew it was going to be a fight and probably wouldn't be pretty, but it shows that on our day we can compete."
The first real chance of the game fell to the hosts, with Danielle Carter's long-rage effort drawing an impressive save from Ann-Katrin Berger.
Chelsea were playing without the WSL's top scorer Sam Kerr, who is on international duty with Australia at the Women's Asian Cup.
They created plenty of chances and came closest to an opener on 25 minutes when Pernille Harder made a clever run in behind the Brighton defence, but both Fran Kirby and Guro Reiten could not get enough on the end of her cross at the far post.
Kirby was through on goal and had a chance to make amends late in the first half, but she side-footed her effort too early allowing Walsh to make the low save.
That wasted chance summed up the Blues' first half, they dominated possession but managed only two shots on target from their 10 attempts on goal.
It was much the same after the break, Kirby twice went close before an unmarked Erin Cuthbert blasted her effort wide of Walsh's post from inside the box.
Cuthbert was left with her head in her hands not long after when she thought Chelsea had finally found a breakthrough, but her powerful shot from inside the box ricocheted off the crossbar.
After Manchester United's span data-reactid=".l5wl7hqyc4.0.0.0.1.$paragraph-24.$link-2.0"">>win over Tottenham, Chelsea slipped to third in the WSL, four points behind Arsenal after the Gunners span data-reactid=".l5wl7hqyc4.0.0.0.1.$paragraph-24.$link-5.0"">>earned a late draw against Manchester City in the evening match.
span data-reactid=".l5wl7hqyc4.0.0.0.1.$list-25.$list-item-0.$undefined-link-1.0"">

>Relive coverage of today's matches in the Women's Super League
Line-ups
Brighton Women
Formation 3-4-3
1
Walsh
5
Kerkdijk
20
Williams
17
Kullberg
2
Koivisto
6
Le Tissier
8
Connolly
15
Green
10
Kaagman
18
Carter
7
Whelan
1

span data-reactid=".l5wl7hqyc4.0.0.0.1.$include-26.0.0.1:$panel-0.$0.0.0.0.3.$0PO170912.1.0.0"">

>Walsh

5

span data-reactid=".l5wl7hqyc4.0.0.0.1.$include-26.0.0.1:$panel-0.$0.0.0.0.3.$1PO223953.1.0.0"">

>Kerkdijk

Substituted for

span data-reactid=".l5wl7hqyc4.0.0.0.1.$include-26.0.0.1:$panel-0.$0.0.0.0.3.$1PO223953.2.$0.2.0"">

>Symonds

at

63'

minutes

20

span data-reactid=".l5wl7hqyc4.0.0.0.1.$include-26.0.0.1:$panel-0.$0.0.0.0.3.$2PO96463.1.0.0"">

>Williams

17

span data-reactid=".l5wl7hqyc4.0.0.0.1.$include-26.0.0.1:$panel-0.$0.0.0.0.3.$3PO491719.1.0.0"">

>Kullberg

2

span data-reactid=".l5wl7hqyc4.0.0.0.1.$include-26.0.0.1:$panel-0.$0.0.0.0.3.$4PO176313.1.0.0"">

>Koivisto

6

span data-reactid=".l5wl7hqyc4.0.0.0.1.$include-26.0.0.1:$panel-0.$0.0.0.0.3.$5PO466178.1.0.0"">

>Le Tissier

8

span data-reactid=".l5wl7hqyc4.0.0.0.1.$include-26.0.0.1:$panel-0.$0.0.0.0.3.$6PO180775.1.0.0"">

>Connolly

15

span data-reactid=".l5wl7hqyc4.0.0.0.1.$include-26.0.0.1:$panel-0.$0.0.0.0.3.$7PO114347.1.0.0"">

>Green

10

span data-reactid=".l5wl7hqyc4.0.0.0.1.$include-26.0.0.1:$panel-0.$0.0.0.0.3.$8PO225666.1.0.0"">

>Kaagman

Substituted for

span data-reactid=".l5wl7hqyc4.0.0.0.1.$include-26.0.0.1:$panel-0.$0.0.0.0.3.$8PO225666.2.$0.2.0"">

>Zigiotti Olme

at

78'

minutes

18

span data-reactid=".l5wl7hqyc4.0.0.0.1.$include-26.0.0.1:$panel-0.$0.0.0.0.3.$9PO96379.1.0.0"">

>Carter

Substituted for

span data-reactid=".l5wl7hqyc4.0.0.0.1.$include-26.0.0.1:$panel-0.$0.0.0.0.3.$9PO96379.2.$0.2.0"">

>Brazil

at

90+2'

minutes

7

span data-reactid=".l5wl7hqyc4.0.0.0.1.$include-26.0.0.1:$panel-0.$0.0.0.0.3.$10PO168405.1.0.0"">

>Whelan
Substitutes
3

span data-reactid=".l5wl7hqyc4.0.0.0.1.$include-26.0.0.1:$panel-0.$0.0.0.0.5.$0PO176631.1.0.0"">

>Gibbons

4

span data-reactid=".l5wl7hqyc4.0.0.0.1.$include-26.0.0.1:$panel-0.$0.0.0.0.5.$1PO96403.1.0.0"">

>Bowman

12

span data-reactid=".l5wl7hqyc4.0.0.0.1.$include-26.0.0.1:$panel-0.$0.0.0.0.5.$2PO497977.1.0.0"">

>Bance

16

span data-reactid=".l5wl7hqyc4.0.0.0.1.$include-26.0.0.1:$panel-0.$0.0.0.0.5.$3PO200160.1.0.0"">

>Brazil

19

span data-reactid=".l5wl7hqyc4.0.0.0.1.$include-26.0.0.1:$panel-0.$0.0.0.0.5.$4PO129572.1.0.0"">

>Simpkins

21

span data-reactid=".l5wl7hqyc4.0.0.0.1.$include-26.0.0.1:$panel-0.$0.0.0.0.5.$5PO191729.1.0.0"">

>Zigiotti Olme

22

span data-reactid=".l5wl7hqyc4.0.0.0.1.$include-26.0.0.1:$panel-0.$0.0.0.0.5.$6PO466180.1.0.0"">

>Robinson

24

span data-reactid=".l5wl7hqyc4.0.0.0.1.$include-26.0.0.1:$panel-0.$0.0.0.0.5.$7PO472366.1.0.0"">

>Symonds

40

span data-reactid=".l5wl7hqyc4.0.0.0.1.$include-26.0.0.1:$panel-0.$0.0.0.0.5.$8PO200147.1.0.0"">

>Startup
Chelsea Women
Formation 3-4-3
30
Berger
7
Carter
4
Bright
3
Nouwen
22
Cuthbert
24
Spence
25
Andersson
11
Reiten
17
Fleming
23
Harder
14
Kirby
30

span data-reactid=".l5wl7hqyc4.0.0.0.1.$include-26.0.0.1:$panel-0.$0.0.0.1.3.$0PO225128.1.0.0"">

>Berger

7

span data-reactid=".l5wl7hqyc4.0.0.0.1.$include-26.0.0.1:$panel-0.$0.0.0.1.3.$1PO178549.1.0.0"">

>Carter

4

span data-reactid=".l5wl7hqyc4.0.0.0.1.$include-26.0.0.1:$panel-0.$0.0.0.1.3.$2PO96471.1.0.0"">

>Bright

3

span data-reactid=".l5wl7hqyc4.0.0.0.1.$include-26.0.0.1:$panel-0.$0.0.0.1.3.$3PO186004.1.0.0"">

>Nouwen

22

span data-reactid=".l5wl7hqyc4.0.0.0.1.$include-26.0.0.1:$panel-0.$0.0.0.1.3.$4PO421767.1.0.0"">

>Cuthbert

24

span data-reactid=".l5wl7hqyc4.0.0.0.1.$include-26.0.0.1:$panel-0.$0.0.0.1.3.$5PO96404.1.0.0"">

>Spence

Substituted for

span data-reactid=".l5wl7hqyc4.0.0.0.1.$include-26.0.0.1:$panel-0.$0.0.0.1.3.$5PO96404.2.$0.2.0"">

>England

at

82'

minutes

25

span data-reactid=".l5wl7hqyc4.0.0.0.1.$include-26.0.0.1:$panel-0.$0.0.0.1.3.$6PO179966.1.0.0"">

>Andersson

11

span data-reactid=".l5wl7hqyc4.0.0.0.1.$include-26.0.0.1:$panel-0.$0.0.0.1.3.$7PO178416.1.0.0"">

>Reiten

Substituted for

span data-reactid=".l5wl7hqyc4.0.0.0.1.$include-26.0.0.1:$panel-0.$0.0.0.1.3.$7PO178416.2.$0.2.0"">

>Charles

at

70'

minutes

17

span data-reactid=".l5wl7hqyc4.0.0.0.1.$include-26.0.0.1:$panel-0.$0.0.0.1.3.$8PO206450.1.0.0"">

>Fleming

23

span data-reactid=".l5wl7hqyc4.0.0.0.1.$include-26.0.0.1:$panel-0.$0.0.0.1.3.$9PO164792.1.0.0"">

>Harder

Booked at 33mins

14

span data-reactid=".l5wl7hqyc4.0.0.0.1.$include-26.0.0.1:$panel-0.$0.0.0.1.3.$10PO178251.1.0.0"">

>Kirby
Substitutes
1

span data-reactid=".l5wl7hqyc4.0.0.0.1.$include-26.0.0.1:$panel-0.$0.0.0.1.5.$0PO191682.1.0.0"">

>Musovic

5

span data-reactid=".l5wl7hqyc4.0.0.0.1.$include-26.0.0.1:$panel-0.$0.0.0.1.5.$1PO107951.1.0.0"">

>Ingle

9

span data-reactid=".l5wl7hqyc4.0.0.0.1.$include-26.0.0.1:$panel-0.$0.0.0.1.5.$2PO104772.1.0.0"">

>England

21

span data-reactid=".l5wl7hqyc4.0.0.0.1.$include-26.0.0.1:$panel-0.$0.0.0.1.5.$3PO200156.1.0.0"">

>Charles

27

span data-reactid=".l5wl7hqyc4.0.0.0.1.$include-26.0.0.1:$panel-0.$0.0.0.1.5.$4PO242973.1.0.0"">

>Abdullina

28

span data-reactid=".l5wl7hqyc4.0.0.0.1.$include-26.0.0.1:$panel-0.$0.0.0.1.5.$5PO14742.1.0.0"">

>Telford
Referee:

Kirsty Dowle

Attendance:

1,743
Match Stats
Home Team
Brighton Women
Away Team
Chelsea Women
Possession

Home

32%

Away

68%

Shots

Home

4

Away

26

Shots on Target

Home

3

Away

5

Corners

Home

3

Away

13

Fouls

Home

4

Away

7
Live Text
div data-reactid=".l5wl7hqyc4.0.0.0.1.$include-26.0.0.1:$panel-2.$2.0.0.1.1.1:$post-a=12376215743.0.3"">>

Match ends, Brighton and Hove Albion Women 0, Chelsea Women 0.

div data-reactid=".l5wl7hqyc4.0.0.0.1.$include-26.0.0.1:$panel-2.$2.0.0.1.1.1:$post-a=12376215667.0.3"">>

Second Half ends, Brighton and Hove Albion Women 0, Chelsea Women 0.

div data-reactid=".l5wl7hqyc4.0.0.0.1.$include-26.0.0.1:$panel-2.$2.0.0.1.1.1:$post-a=12376214301.0.3"">>

Foul by Bethany England (Chelsea Women).

div data-reactid=".l5wl7hqyc4.0.0.0.1.$include-26.0.0.1:$panel-2.$2.0.0.1.1.1:$post-a=12376214507.0.3"">>

Maya Le Tissier (Brighton and Hove Albion Women) wins a free kick in the defensive half.

div data-reactid=".l5wl7hqyc4.0.0.0.1.$include-26.0.0.1:$panel-2.$2.0.0.1.1.1:$post-a=12376212865.0.3"">>

Corner, Chelsea Women. Conceded by Aileen Whelan.

div data-reactid=".l5wl7hqyc4.0.0.0.1.$include-26.0.0.1:$panel-2.$2.0.0.1.1.1:$post-a=12376212225.0.3"">>

Corner, Chelsea Women. Conceded by Aileen Whelan.

div data-reactid=".l5wl7hqyc4.0.0.0.1.$include-26.0.0.1:$panel-2.$2.0.0.1.1.1:$post-a=12376211039.0.3"">>

Substitution, Brighton and Hove Albion Women. Ellie Brazil replaces Danielle Carter.

div data-reactid=".l5wl7hqyc4.0.0.0.1.$include-26.0.0.1:$panel-2.$2.0.0.1.1.1:$post-a=12376208773.0.3"">>

Attempt saved. Danielle Carter (Brighton and Hove Albion Women) right footed shot from more than 35 yards is saved in the top centre of the goal.

div data-reactid=".l5wl7hqyc4.0.0.0.1.$include-26.0.0.1:$panel-2.$2.0.0.1.1.1:$post-a=12376207161.0.3"">>

Foul by Bethany England (Chelsea Women).

div data-reactid=".l5wl7hqyc4.0.0.0.1.$include-26.0.0.1:$panel-2.$2.0.0.1.1.1:$post-a=12376207057.0.3"">>

Maya Le Tissier (Brighton and Hove Albion Women) wins a free kick on the right wing.

div data-reactid=".l5wl7hqyc4.0.0.0.1.$include-26.0.0.1:$panel-2.$2.0.0.1.1.1:$post-a=12376206271.0.3"">>

Foul by Jonna Andersson (Chelsea Women).

div data-reactid=".l5wl7hqyc4.0.0.0.1.$include-26.0.0.1:$panel-2.$2.0.0.1.1.1:$post-a=12376206171.0.3"">>

Danielle Carter (Brighton and Hove Albion Women) wins a free kick in the defensive half.

div data-reactid=".l5wl7hqyc4.0.0.0.1.$include-26.0.0.1:$panel-2.$2.0.0.1.1.1:$post-a=12376205095.0.3"">>

Attempt saved. Bethany England (Chelsea Women) header from the centre of the box is saved in the centre of the goal. Assisted by Pernille Harder with a cross.

div data-reactid=".l5wl7hqyc4.0.0.0.1.$include-26.0.0.1:$panel-2.$2.0.0.1.1.1:$post-a=12376204141.0.3"">>

Attempt saved. Pernille Harder (Chelsea Women) right footed shot from the left side of the box is saved in the centre of the goal.

div data-reactid=".l5wl7hqyc4.0.0.0.1.$include-26.0.0.1:$panel-2.$2.0.0.1.1.1:$post-a=12376204077.0.3"">>

Attempt blocked. Erin Cuthbert (Chelsea Women) right footed shot from the centre of the box is blocked. Assisted by Pernille Harder.

div data-reactid=".l5wl7hqyc4.0.0.0.1.$include-26.0.0.1:$panel-2.$2.0.0.1.1.1:$post-a=12376203345.0.3"">>

Attempt blocked. Niamh Charles (Chelsea Women) right footed shot from outside the box is blocked.

div data-reactid=".l5wl7hqyc4.0.0.0.1.$include-26.0.0.1:$panel-2.$2.0.0.1.1.1:$post-a=12376202943.0.3"">>

Corner, Chelsea Women. Conceded by Emma Koivisto.

div data-reactid=".l5wl7hqyc4.0.0.0.1.$include-26.0.0.1:$panel-2.$2.0.0.1.1.1:$post-a=12376199697.0.3"">>

Substitution, Chelsea Women. Bethany England replaces Drew Spence.

div data-reactid=".l5wl7hqyc4.0.0.0.1.$include-26.0.0.1:$panel-2.$2.0.0.1.1.1:$post-a=12376196911.0.3"">>

Attempt missed. Erin Cuthbert (Chelsea Women) right footed shot from outside the box is too high.

div data-reactid=".l5wl7hqyc4.0.0.0.1.$include-26.0.0.1:$panel-2.$2.0.0.1.1.1:$post-a=12376194213.0.3"">>

Substitution, Brighton and Hove Albion Women. Julia Zigiotti Olme replaces Inessa Kaagman.

Source : https://www.bbc.com/sport/football/60012731

6952