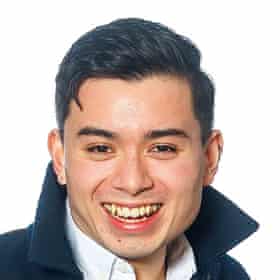 ---
Carlos on Tom
What were you hoping for?
Someone fun, ambitious and interesting.
First impressions?
Well dressed. Great smile. Tall.
What did you talk about?
Careers. We talked about our travel stories – he is very well travelled and talked about his time in South America. Gay pride.
Any awkward moments?
Our mutual lactose-intolerance status. It made for a great topic of conversation when we were browsing the dessert menu. I don't think the waiter fully understood when Tom said he couldn't have dairy – he was presented with scoops of ice-cream.
Good table manners?
He holds his wine glass by the stem and shared his food, so it's a yes from me. I wouldn't say the same for myself – I dropped my steak knife in my lap after almost stabbing myself with it.
Best thing about Tom?
He's ambitious and knows what he wants out of life. And Tegwen, his dog.
Would you introduce him to your friends?
I'm not too sure they'd have much in common, but why not?
Describe Tom in three words?
Ambitious, chilled and a traveller.
What do you think he made of you?
I'd like to think that I was funny.
Did you go on somewhere?
The restaurant asked if we wanted to go to the sky bar, but it was already 11 – I was on call the next day and he had a PT session in the morning.